FREE EVENT – No Fixed Address – The book about Australia's trailblazing Aboriginal rock 'n' reggae band
No Fixed Address – the story of Australia's trailblazing Aboriginal rock 'n' reggae band
A NORTHSIDE RADIO  fundraising event.
Friday 28th of July, from 7.00pm
—-
Author Donald Robertson in conversation with Northside Radio presenter Ralph Kerle about his eye-opening new book 'No Fixed Address' – an action-packed yarn about life on the road with the Indigenous band whose music fuelled the Aboriginal struggles of the 80s.
—-
Robertson will also talk about his own experiences as a leading rock journalist in the 70s and 80s, the golden years of Australian rock.
—-
Here's what they are saying…
—-
The story of this radical group is told in a new book by Donald Robertson. On the back cover Goanna's Shane Howard describes No Fixed Address as "the tip of the spear" that plunged into the heart of middle Australia. And as a story, it's got everything – starting with a fiery truck crash on the Nullarbor Plain when the band were returning from an ill fated trip to Perth in 1982. – Andrew Stafford, The Guardian
—-
No Fixed Address were provocative and totally unique and went on to enjoy wide success,while also dealing with constant and blatant racism. Now the Indigenous pioneering act – who paved the way for First Nations artists such as Yothu Yindi, Archie Roach, Kev Carmody, Emma Donovan and Baker Boy – have had their story detailed in depth by music writer Donald Robertson. – Paulie Stewart, The Saturday Paper
—-
Spelled out fearlessly, shockingly, sometimes hilariously by scores of voices concluding in an exhaustive gig-by-gig appendix, it's a history vindicated in the telling – Michael Dwyer, The Age
—-
As we approach the Voice referendum, this is a timely tale, beautifully told. Robertson has delivered not just the story of a band but a modern history of our First Nations people. – Jeff Jenkins, Rhythms magazine
—-
'No Fixed Address' is a magnificent achievement. It's also readable, interesting, engaging and fucking disgusting. – Robert Brokenmouth, I-94 Bar
—-
Hosted by Ralph Kerle Gallery, 63 The Corso, Manly.
—-
Bookings and RSVP are essential. Limited capacity.
—-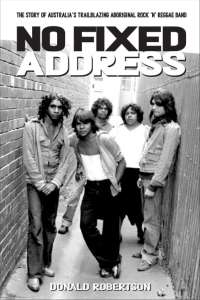 Date: Fri 28 July 2023
Website: https://www.eventbrite.com.au/e/no-fixed-address-the-story-of-the-trailblazing-aboriginal-rock-band-tickets-662802158097?aff=oddtdtcreator
Email: [email protected]
Address:
Ralph Kerle Gallery
63 The Corso,
Manly.