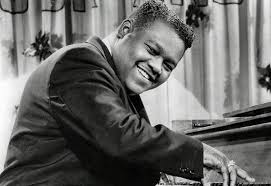 ---
Antoine Dominique Domino Jr. (February 26, 1928 – October 24, 2017), known as Fats Domino, was an American pianist, singer and songwriter. One of the pioneers of rock and roll music,
Domino sold more than 65 million records. Born in New Orleans to a French Creole family, Domino signed to Imperial Records in 1949. His first single "The Fat Man" is cited by some historians as the first rock and roll single and the first to sell more than 1 million copies.
Domino continued to work with the song's co-writer Dave Bartholomew, contributing his distinctive rolling piano style to Lloyd Price's "Lawdy Miss Clawdy" (1952) and scoring a string of mainstream hits beginning with "Ain't That a Shame" (1955). Between 1955 and 1960, he had eleven Top 10 US pop hits. By 1955, five of his records had sold more than a million copies, being certified gold.
Elvis Presley declared Domino a "huge influence on me when I started out"
Domino was shy and modest by nature but made a significant contribution to the rock and roll genre. Elvis Presley declared Domino a "huge influence on me when I started out" and when they first met in 1959, described him as "the real king of rock 'n' roll". The Beatles were also heavily influenced by Domino.
Four of Domino's records were named to the Grammy Hall of Fame for their significance: "Blueberry Hill", "Ain't That a Shame", "Walking to New Orleans" and "The Fat Man". He was inducted into the Rock and Roll Hall of Fame as part of its first group of inductees in 1986. The Associated Press estimates that during his career, Domino "sold more than 110 million records".
Ron will play many of Domino's hits during the show. along with many more of the early pioneers of Rock and Roll.
Tune in, (or stream via northsideradio.com.au/audio-player) this Thursday, noon to 4pm right here on Northside Radio text your jukebox favourites to Ron on 0418 246812