VALE – Georgie Cadwallader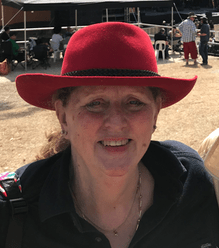 It is with immense sadness we advise that long-time presenter and station volunteer, Georgie Cadwallader has passed away after developing pancreatic cancer.
Much loved and respected by her listeners, Georgie began broadcasting on Queensand's 4GY (Gympie) Radio when she was 30. Her love of country music began early in her life and as a lover of horse riding, it was the soundtrack of many gymkhanas and other equestrian events she attended.
After moving to Sydney she joined Northside radio and was a loyal volunteer and staunch supporter of the station for many years. A few years back she suffered some serious health issues and was hospitalised for many months where she lay in a coma. After recovering from that illness, she once again selflessly volunteered her time at Northside radio, presenting her much-loved programme GG's Country & Western show on Mondays from 9am-12noon.
Georgie also assisted with numerous station events and projects, helping many fledgling announcers to learn the ropes and become more confident and proficient at their craft.
Often, when other presenters were unable to do their show, Georgie would volunteer to fill-in. She was an invaluable asset not just to Northside Radio but also as a volunteer at 2RPH, Radio for the Print Handicapped, where she spent many hours reading for the vision impaired.
From Taree to Port Macquarie, she generously helped raise funds for MS, and for many years presented a Country Music program for the CBAA which was broadcast across Australia via the Community Radio Network (CRN).
We are very sad to announce that Georgie passed away early on Monday 10 October after having been in hospital for several weeks.
We offer our condolences to her friends, family, loved-ones and listeners.
A remarkable woman, we will miss her dedication and constant presence on our community radio station.
Vale Georgie and thank you for everything.