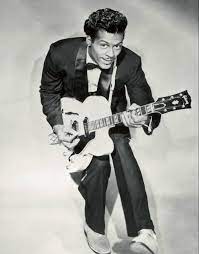 Ron is featuring pioneer Rock and Roll artist CHUCK BERRY on the program this Thursday 13th October, Noon -4pm.
Streaming Live on Northside Radio FM99.3 Sydney's leading Community Radio Station.
Nicknamed the "Father of Rock and Roll"
Charles Edward Anderson Berry (October 18, 1926 – March 18, 2017) was an American singer, songwriter and guitarist who pioneered rock and roll. Nicknamed the "Father of Rock and Roll", he refined and developed rhythm and blues into the major elements that made rock and roll distinctive with songs such as "Maybellene" (1955), "Roll Over Beethoven" (1956), "Rock and Roll Music" (1957) and "Johnny B. Goode" (1958).
Writing lyrics that focused on teen life and consumerism, and developing a music style that included guitar solos and showmanship, Berry was a major influence on subsequent rock music. Berry was among the first musicians to be inducted into the Rock and Roll Hall of Fame on its opening in 1986; he was cited for having "laid the groundwork for not only a rock and roll sound but a rock and roll stance." Berry is included in several of Rolling Stone magazine's "greatest of all time" lists; he was ranked fifth on its 2004 and 2011 lists of the 100 Greatest Artists of All Time.
The Rock and Roll Hall of Fame's 500 Songs That Shaped Rock and Roll includes three of Berry's: "Johnny B. Goode", "Maybellene", and "Rock and Roll Music". Berry's "Johnny B. Goode" is the only rock-and-roll song included on the Voyager Golden Record. Between 1957 and 1964, Chuck had 5 big hits on the Australian charts…the biggest being "Sweet Little 16" in 1958. (Ron's personal #1 RnR song pick)
Ron will play many of Chuck Berry's hits during the show, along with many more of the early pioneers.

Tune in this Thursday, noon to 4pm right here on Northside Radio
Text your jukebox requests to Ron on 0418 246812
Listen Again
Recent Posts